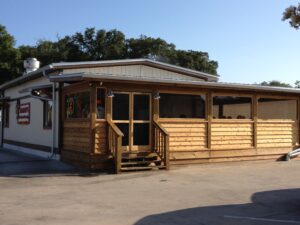 Based off an old family restaurant called Sam's Oyster House, STEWBY'S Seafood Shanty is a small take-out and dine-in seafood restaurant in Fort Walton Beach. STEWBY'S offers the most affordable and freshest local seafood available. Featuring everything that made Sam's great including Sam's gumbo and signature sandwiches with coleslaw and tater sauce on a sesame seed bun. All the fried and grilled items are prepared just as Sam did.
All the seafood is fresh and locally bought. The fish come straight from the docks in Destin and other neighboring counties. The oysters are always fresh shucked from Bon Secour Fisheries in Alabama with an occasional supply from Apalachicola Florida. The shrimp are also from Bon Secour and when available right here from our very own Choctawhatchee bay.
Eat on the heated and cooled enclosed deck or take it to-go. Stewby's even has a drive thru for convenience. However we are not fast food, but quick service eating. Drive thru times average between 6-8 minutes but don't be disappointed when we are extremely busy and it takes 10 minutes. It's first come, first serve! Call-in orders are accepted but not during busy rush hours.
If you haven't already, you can find us at 427 Racetrack Rd N.W. in Fort Walton Beach. About 100 yards from Beal Pkwy, at the north end of Racetrack Rd. Call ahead for specials and dress is very casual. (850)-586-7001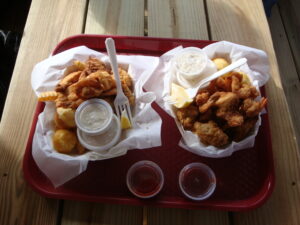 Unloading some shrimp, squid, and flounder off the Family Pride. Never noticed Jeffery taking this pic while I was busy gabbing at the mouth.
Beautiful day on the water and a nice break from the kitchen and office duties. Only bad thing is lugging 1000lb of fresh seafood up a hill in wheel barrels to the trucks.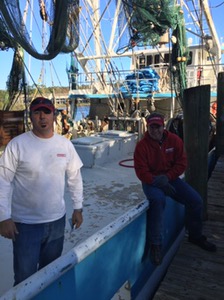 It's Hopper season. Fresh local bay shrimp called hoppers. You can identify them by their pink spot on their side.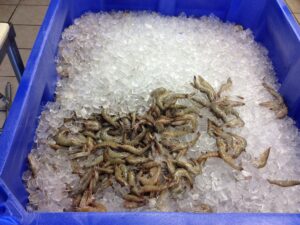 There is a short window of opportunity that we can get this size shrimp before the are all gone or move on. We spent two days unloading and processing 2800lb of shrimp from two boats. Most of these shrimp will be quick frozen and store for later weeks, while the rest will be served fresh. The season for these large hoppers will only last a few weeks so come and get them while the getting is good.
Below are some pics of us processing the shrimp for storage. The bulk are put on bread racks, stacked, and then rolled into a freezer that is 10 degrees below 0. After the are frozen we box them up in 50lb increments and stack them neatly in the freezer.
The rest are put into wooden crates and iced to serve fresh.
So good it's addictive. Offered in two styles. Citrus or Spicy Sriracha. Served with homemade tortillas. Yumm!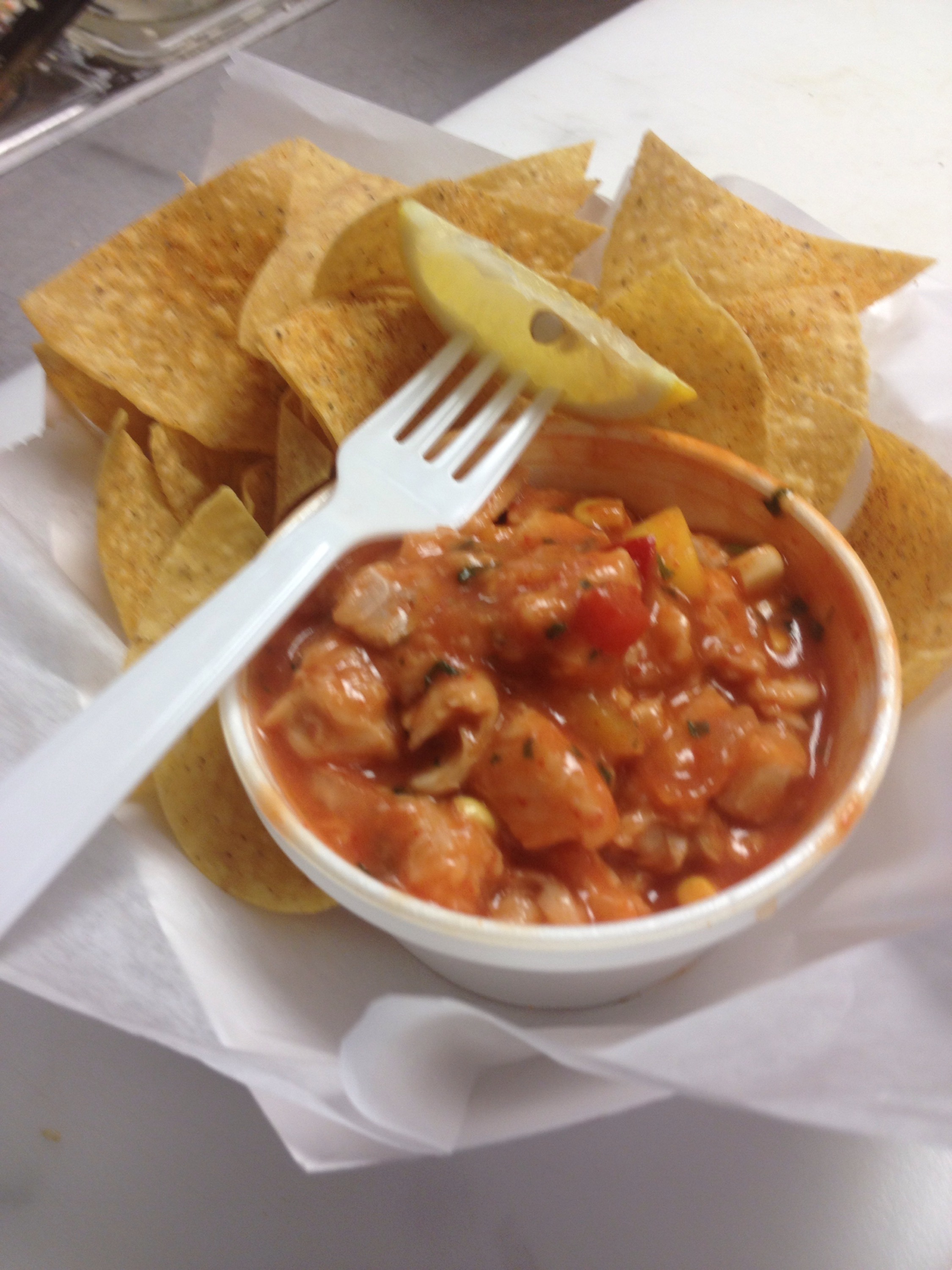 It all starts with fresh Atlantic Sharpnose Shark. Meat so pretty it's perfect for ceviche.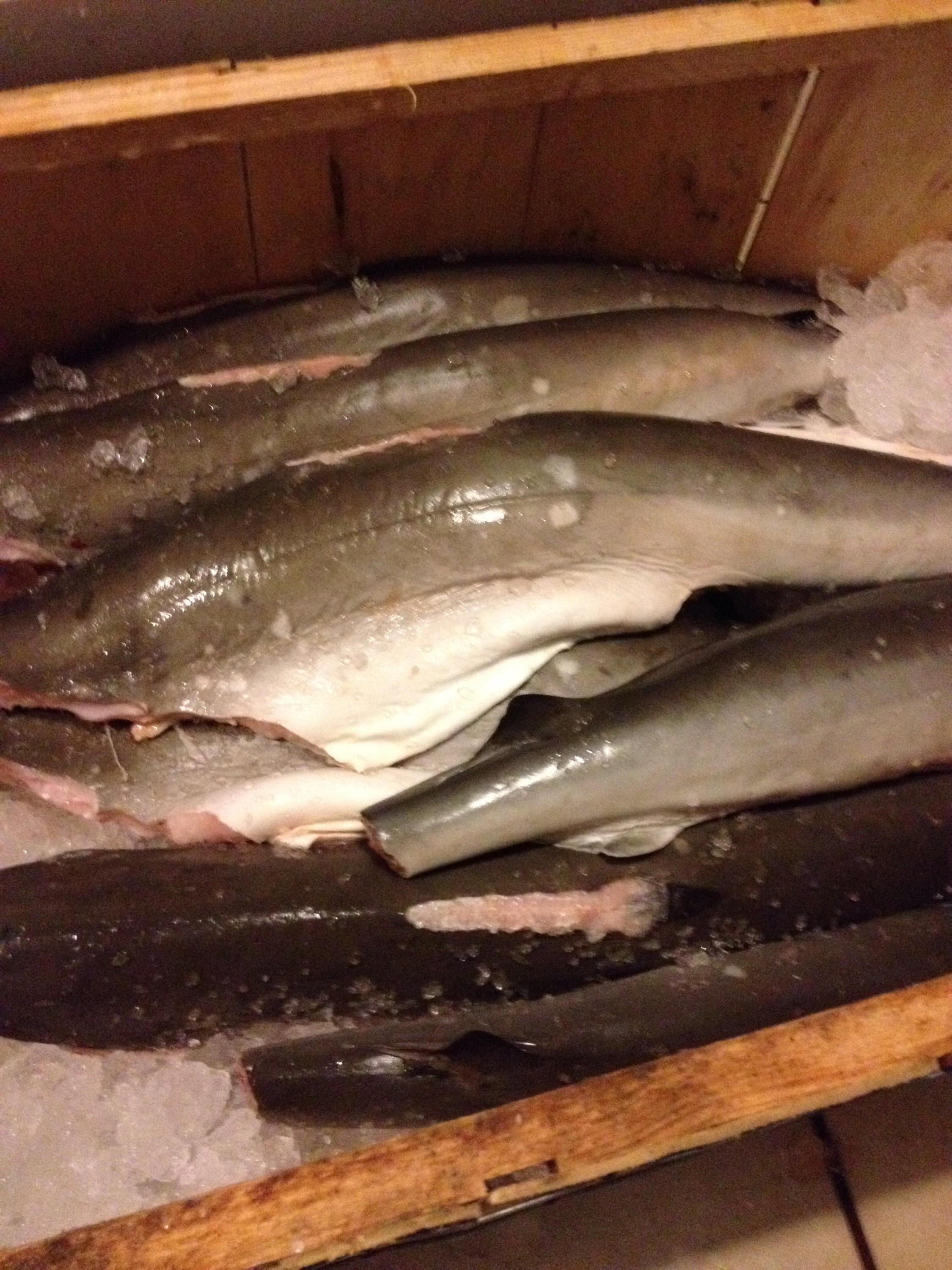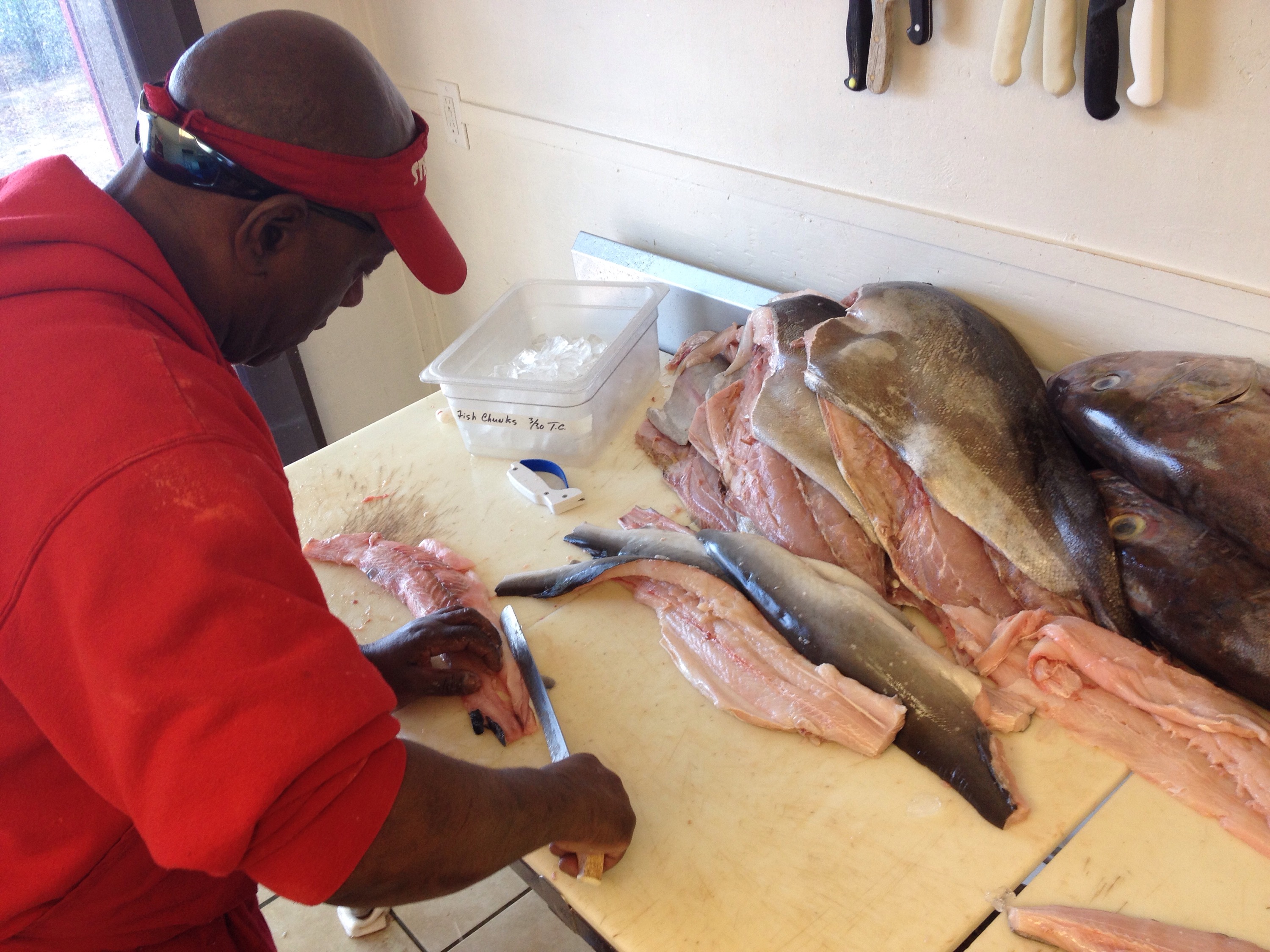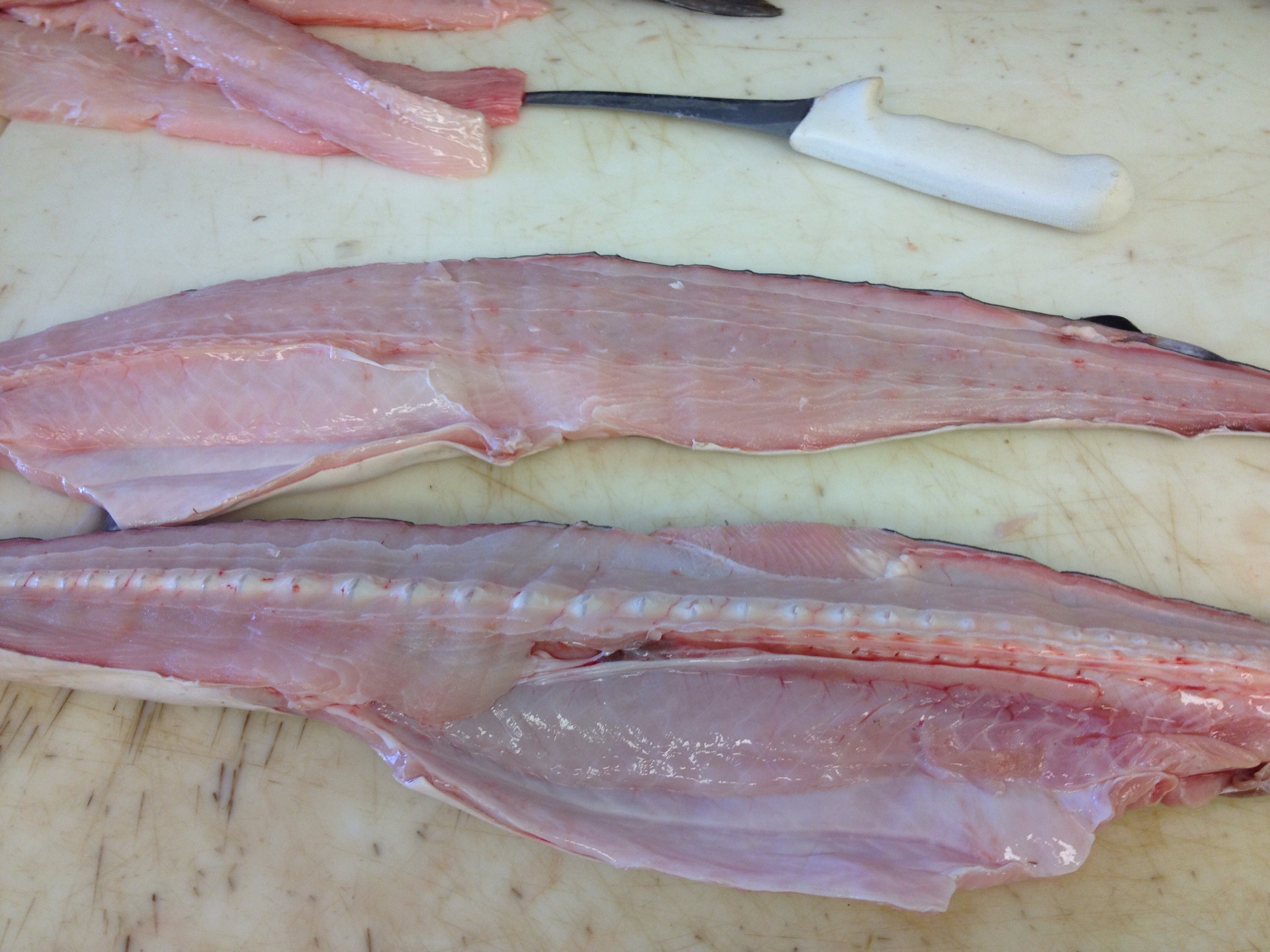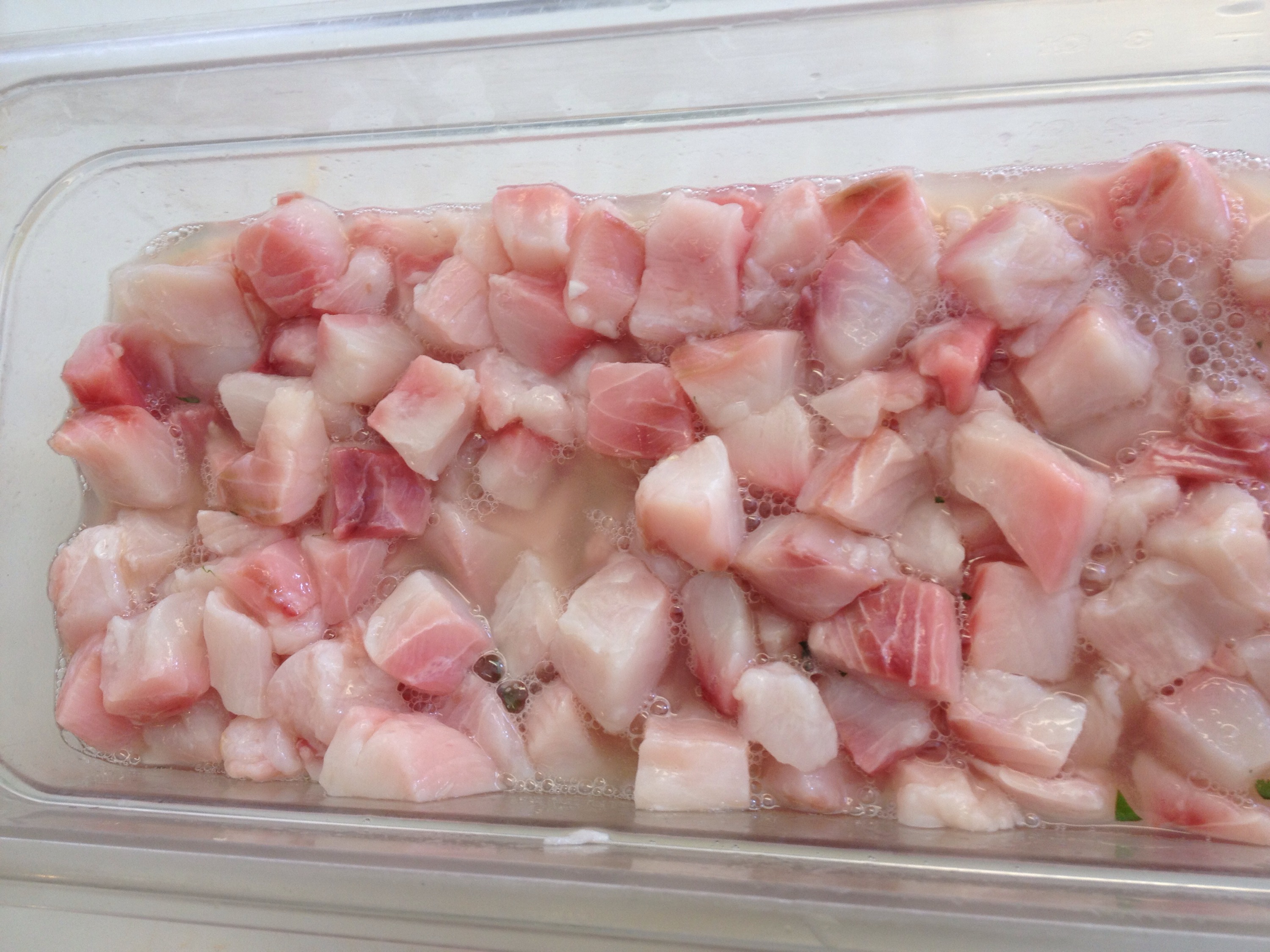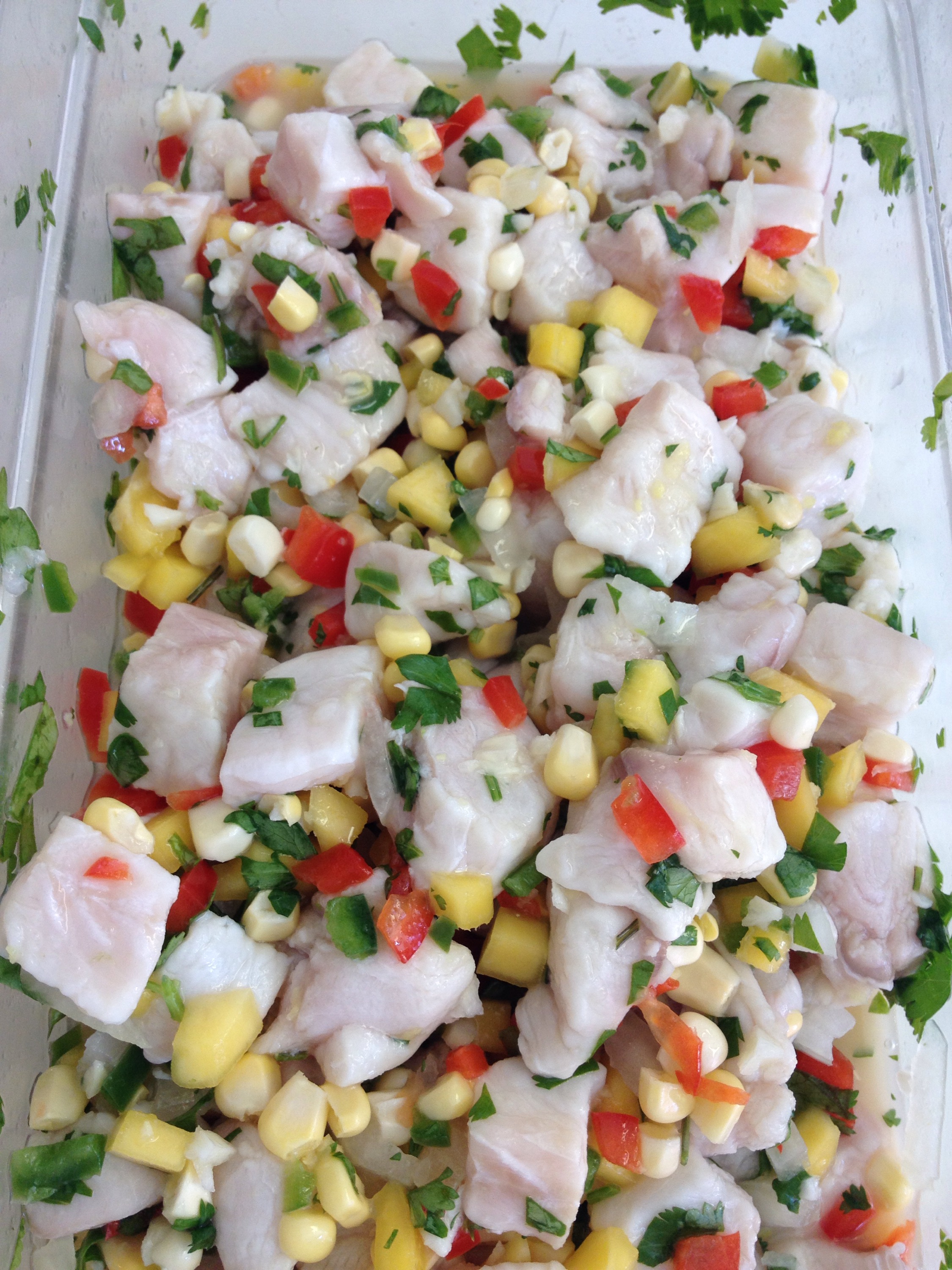 Caught in the Gulf mostly in south Florida. In my opinion better than red snapper. These are some small ones but still delicious.