Gumbo season is upon us and if you're looking for the best seafood restaurant in Ft. Walton Beach Florida to get some seafood gumbo, it's right here at Stewby's Seafood Shanty in Ft. Walton Beach! We Serve the best seafood gumbo in Ft. Walton, hands down. Don't believe us? Come visit our restaurant located in Fort Walton Beach Florida and try our delicious seafood gumbo and see for yourself. We also have amazing fish and shrimp tacos, SAMwiches, and dinners that will make you see why Stewby's is the best seafood restaurant in FWB, FL.
All of our Seafood is caught locally so not only do we have the best seafood in Ft. Walton Beach FL, but we also serve the freshest seafood of Ft. Walton Beach FL. Our fresh, local seafood and amazing seafood gumbo will have you wondering why you've been settling for any other seafood restaurant in Ft. Walton Beach! Our seafood will definitely have you hooked! (pun intended) So hurry up and come see us at Stewby's and see why we're the best seafood restaurant in Ft. Walton Beach FL!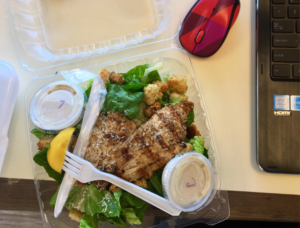 Whether you're in a hurry on your lunch break or just in the mood for something lighter, Our caesar salad with your choice of fish, shrimp or chicken is the perfect go-to meal. There's nothing better than fresh, local seafood that's quick, affordable and not to mention delicious. Come by our Ft. Walton Beach, FL restaurant location and see us. Don't forget we also have our quick service drive-thru to make satisfying your seafood cravings more convenient for you.
Constantly serving up fresh, local, and affordable seafood such as our colossal shrimp, fresh amberjack and snapper, there's no doubt that we are obsessed with seafood here at Stewby's. Not to mention we're always looking for any seafood we can get our hands on, that's fresh off the boats and isn't already on our menu, to fry or grill and serve up as a special. We also know that the only thing better than some delicious, fresh seafood is some delicious, fresh seafood served with the perfect sides and fixin's to go with. With Thanksgiving right around the corner, it was only right that we brought back the traditional holiday side that we all crave and can't get enough of… collard greens! (we didn't hold back on the ham either) So come on up here and get you and the family some of these greens with a big ole' plate of fresh seafood before it's too late. Don't forget to ask about our family size servings either! We're serving our collard greens in bulk for the entire family, along with all of our other delicious sides. Let us take care of some of the cooking and help make Thanksgiving a little less stressful for you this year by coming in tonight or tomorrow for all of the tasty Thanksgiving dinner sides you and your family will need!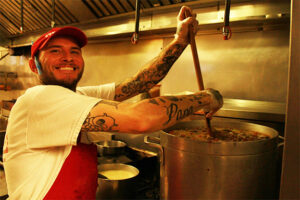 At Stewby's Seafood Shanty, we believe in serving the best quality seafood to our customers. One of the most popular items on our menu is our delicious gumbo. Our gumbo is prepared in our kitchen by Chris. Chris is Stewby's kitchen supervisor. Not only does Chris prepare our delicious gumbo, he also makes the potato salad and fried zucchinis on top of his other supervisor duties.
Stewby's Seafood Shanty serves up delicious and affordable seafood in Fort Walton Beach.
Affordable price. Great quality. Quick service. Visit us and dine at Stewby's Seafood Shanty on 427 Racetrack Road, Fort Walton Beach, FL, 32547. Call ahead for our specials at 1(850)-586-7001.
Don't forget! We also have our brother location, Scooter's Fish House, in Navarre, Florida if you are ever in the area and are craving delicious, locally caught seafood.
Delicious fried fish and mouth watering crawfish boils for your next event is possible. Stewby's Seafood Shanty only uses fresh local caught and bought seafood for our menu items. With quick and friendly service, you are guaranteed to have us again for future events and daily visits to our restaurant in Fort Walton Beach.
The best seafood restaurant in Fort Walton Beach provides seafood catering services.
Call us for your next event and serve your guests the best, fresh seafood they will ever taste! Our number is 1.850.586.7001
Stop by to order and try out our fresh and delicious seafood menu items! We are located in 427 Racetrack Road, Fort Walton Beach, Florida, 32547.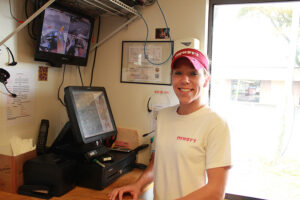 Shelby is the Supervisor at Stewby's Seafood Shanty. She is originally from Tennessee and is intent on serving up the best customer service enhancing the dining experience even more. She is in charge of interviewing newbies at Stewby's. Just like Gary, the manager, Shelby has been with the best seafood restaurant in Fort Walton Beach since they opened five years ago.
Drop by to say hello, meet the rest of our friendly staff, and grab a bite of the best seafood in town! Stewby's is located at 427 Racetrack Rd N.W. in Fort Walton Beach.
Don't forget to call ahead at 1(850)-586-7001 and ask Shelby about our specials!
Although there is no "right way" to make Gumbo, we like to think ours is up there with the very best. Hailing from Louisiana, we have taken it in and made it Stewby's own. Our signature fresh seafood makes our gumbo finger licking good. Along with fresh seafood like shrimp and fish, you'll also find gumbo staples such as tomatoes, okra, onions and of course rice. Available in a quart, half gallon or gallon sizes, eat as much as you can and just take the rest to go.
We have the Best Gumbo in Fort Walton Beach!
Visit our Fort Walton Beach restaurant today and try our delicious gumbo. We guarantee that you won't regret it. As a side or main dish you'll be coming back for more in no time. See you soon.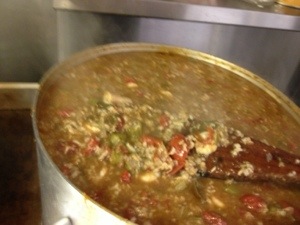 If you've been looking for fresh seafood restaurants in Fort Walton Beach, you can now stop your search. Stewby's Seafood Shanty is the go-to restaurant when you want some fresh, locally sourced seafood. Most of our seafood comes straight from the Gulf of Mexico with the rest coming from neighboring counties.
Visit our fresh seafood restaurant in Fort Walton Beach!
Don't let our small shanty fool you, from our shrimp, to mango snapper, to oysters, you are guaranteed to have the freshest food around. Head over to tripadvisor and check out our reviews. You'll see we aren't the only ones that think our food is delicious. Come on down and visit us soon, you won't regret it.
Looking for something a little different for lunch or dinner? Then come on over to Stewby's and try our Shrimp Samwich. One of our most popular and delicious dishes, the Shrimp Samwich will not disappoint you. Just imagine, fried shrimp, tartar sauce and coleslaw between a large sesame seed bun with a side of fries. You'll be planning your next trip back before you even leave. Come and check out the best restaurant in Fort Walton Beach today!
Stewby's is the top Fort Walton Beach family friendly dining option. At Stewby's we offer the freshest seafood around and have a kid's menu which includes shrimp, our fish of the day and chicken. Our laid back atmosphere makes it the perfect place for families. At Stewby's you don't have to worry about dressing up, just get the family together and head on over. Once you get here walk on in and we will take your order at the window. Take a seat at one of our picnic style tables while you wait for your order to be up. Then indulge in our delicious, fresh seafood. Everyone in the family will be raving about it. Visit us soon!