Another fine batch of seafood gumbo. Filled to the rim with fish, shrimp, okra, and other fresh ingredients.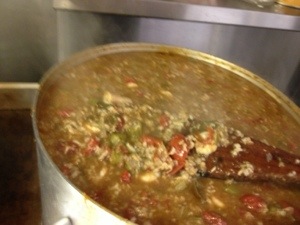 Our gumbo is made from the best ingredients. Slap full of flavor. Homemade fish stock is used from the abundance of fresh fish and their bones. Made from scratch every other day. We pride ourselves on have the best seafood gumbo in Fort Walton Beach.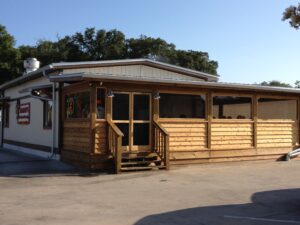 Based off an old family restaurant called Sam's Oyster House, STEWBY'S Seafood Shanty is a small take-out and dine-in seafood restaurant in Fort Walton Beach. STEWBY'S offers the most affordable and freshest local seafood available. Featuring everything that made Sam's great including Sam's gumbo and signature sandwiches with coleslaw and tater sauce on a sesame seed bun. All the fried and grilled items are prepared just as Sam did.
All the seafood is fresh and locally bought. The fish come straight from the docks in Destin and other neighboring counties. The oysters are always fresh shucked from Bon Secour Fisheries in Alabama with an occasional supply from Apalachicola Florida. The shrimp are also from Bon Secour and when available right here from our very own Choctawhatchee bay.
Eat on the heated and cooled enclosed deck or take it to-go. Stewby's even has a drive thru for convenience. However we are not fast food, but quick service eating. Drive thru times average between 6-8 minutes but don't be disappointed when we are extremely busy and it takes 10 minutes. It's first come, first serve! Call-in orders are accepted but not during busy rush hours.
If you haven't already, you can find us at 427 Racetrack Rd N.W. in Fort Walton Beach. About 100 yards from Beal Pkwy, at the north end of Racetrack Rd. Call ahead for specials and dress is very casual. (850)-586-7001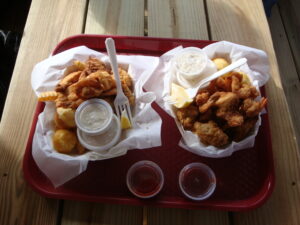 It is our goal to offer the freshest seafood obtainable.

We buy all our fish fresh and local. 90% of our fish come straight from the docks in Destin and the other 10% from neighboring counties including the east coast of Florida when availability requires. Although we buy and serve our fish fresh we will however occasionally freeze some to get through the times when availability is scarce to none. This is typically due to bad weather keeping boats at dock or the state and federal waters being closed to commercial fishing.
Our oysters are always fresh shucked from Bon Secour Fisheries in Alabama with an occasional supply from Apalachicola Florida. Although Apalachicola may have the best oysters served on the half shell, we believe Alabama and Louisiana offer the best for frying.
Shrimp are harder to find fresh than one would think. We buy our shrimp as fresh as you can get it. 99.9% of all gulf shrimp are frozen on the boats while out at sea for up to 30 days at a time. These shrimp are then processed at major seafood distributors like Bon Secour Fisheries and Aquila Seafood in Alabama. The shrimp are then defrosted, de-headed, washed, sorted, and frozen again. These are the same shrimp you find as fresh in the local seafood markets!
When available we buy fresh bay shrimp from local and neighboring county shrimpers, but the season for harvest is very short and quantity is very limited. So we also buy shrimp from Bon Secour Fisheries and Aquila Seafood. However these two companies have agreed to accommodate our needs for fresh shrimp and are providing us with their bay and gulf shrimp prior to refreezing. But, this is still limited to season and availability.