The best people run the best restaurants. We want to introduce a team member, Gary. Gary is the Manager at Stewby's Seafood Shanty. Always a hard worker and always reliable, he jumps in when help is needed. He began working at Stewby's as a line cook and worked his way up to his current managerial position. His four years of experience in the restaurant and food industry qualifies him to lead the staff.
Gary also believes in getting to know the customers. There is nothing like great conversations over great food.
You will find Gary hard at work from Monday to Fridays. Stop by at the best seafood restaurant to say hello and get some delicious seafood while you're at it!
Stewby's Seafood Shanty is located in 427 Racetrack Road NW, Fort Walton Beach, 32547. Give us a call to find out our specials at 1(850)-586-7001.
Although there is no "right way" to make Gumbo, we like to think ours is up there with the very best. Hailing from Louisiana, we have taken it in and made it Stewby's own. Our signature fresh seafood makes our gumbo finger licking good. Along with fresh seafood like shrimp and fish, you'll also find gumbo staples such as tomatoes, okra, onions and of course rice. Available in a quart, half gallon or gallon sizes, eat as much as you can and just take the rest to go.
We have the Best Gumbo in Fort Walton Beach!
Visit our Fort Walton Beach restaurant today and try our delicious gumbo. We guarantee that you won't regret it. As a side or main dish you'll be coming back for more in no time. See you soon.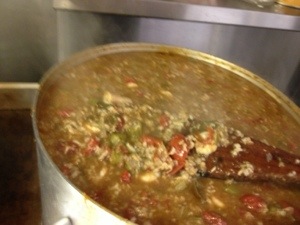 If you've been looking for fresh seafood restaurants in Fort Walton Beach, you can now stop your search. Stewby's Seafood Shanty is the go-to restaurant when you want some fresh, locally sourced seafood. Most of our seafood comes straight from the Gulf of Mexico with the rest coming from neighboring counties.
Visit our fresh seafood restaurant in Fort Walton Beach!
Don't let our small shanty fool you, from our shrimp, to mango snapper, to oysters, you are guaranteed to have the freshest food around. Head over to tripadvisor and check out our reviews. You'll see we aren't the only ones that think our food is delicious. Come on down and visit us soon, you won't regret it.
Looking for something a little different for lunch or dinner? Then come on over to Stewby's and try our Shrimp Samwich. One of our most popular and delicious dishes, the Shrimp Samwich will not disappoint you. Just imagine, fried shrimp, tartar sauce and coleslaw between a large sesame seed bun with a side of fries. You'll be planning your next trip back before you even leave. Come and check out the best restaurant in Fort Walton Beach today!
Stewby's is the top Fort Walton Beach family friendly dining option. At Stewby's we offer the freshest seafood around and have a kid's menu which includes shrimp, our fish of the day and chicken. Our laid back atmosphere makes it the perfect place for families. At Stewby's you don't have to worry about dressing up, just get the family together and head on over. Once you get here walk on in and we will take your order at the window. Take a seat at one of our picnic style tables while you wait for your order to be up. Then indulge in our delicious, fresh seafood. Everyone in the family will be raving about it. Visit us soon!
One of the most sought after dishes at Stewby's Seafood Shanty is our deliciously, mouth-watering fish tacos. A flour tortilla acts as the carrier of goodness. Choose from either our fish of the day usually mahi mahi, wahoo or amberjack or try our fresh shrimp. Have that topped with homemade coleslaw, pico de gallo, cheese and our secret sauce. Simple, yet finger licking good is the best way to describe them. You'll be coming back for more in no time! See you soon.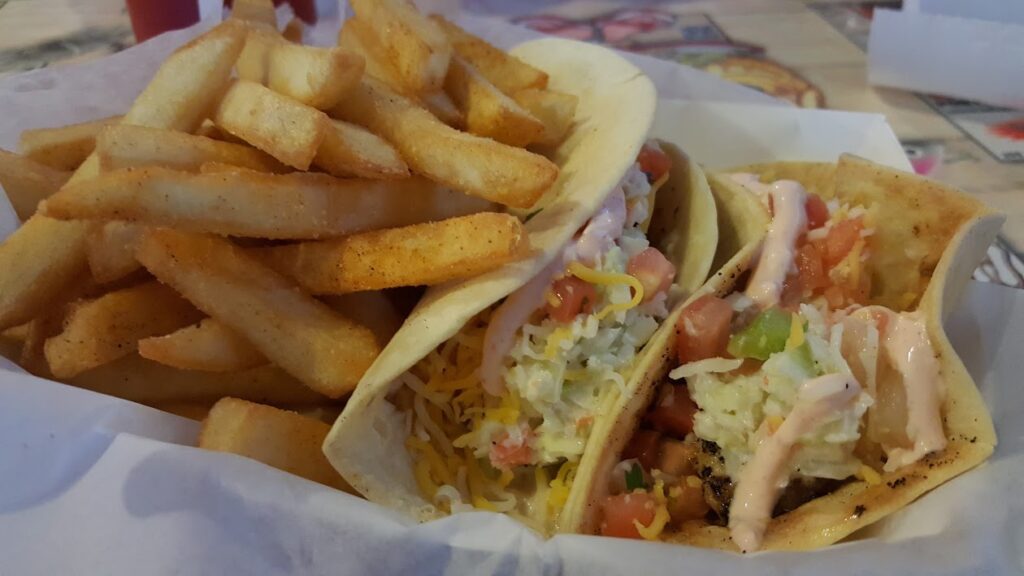 Planning a Destin beach vacation in the near future? As you begin planning your vacation, one of the many questions that will cross your mind is what are the must-do's? Well when visiting Destin a definite must-do is having fresh, right out the gulf seafood. While Destin offers many restaurants from which to choose from, Stewby's is only skip away from Destin. Located in Fort Walton Beach, Stewby's offers the most delicious, fresh seafood available in the Emerald Coast. Voted countless times as not only the best seafood restaurant in Fort Walton Beach but Destin and the rest of the panhandle, we guarantee Stewby's is worth the drive.


Best Destin Seafood Restaurant is in Fort Walton Beach!

Don't want to just take our word for it? Read our countless reviews and see why everyone has fallen in love with Stewby's. Enjoy our fish of the day including amberjack, mahi mahi or wahoo either grilled or fried. In the mood for shrimp or maybe some fish tacos? Stewby's has it all! Even chicken. See you soon.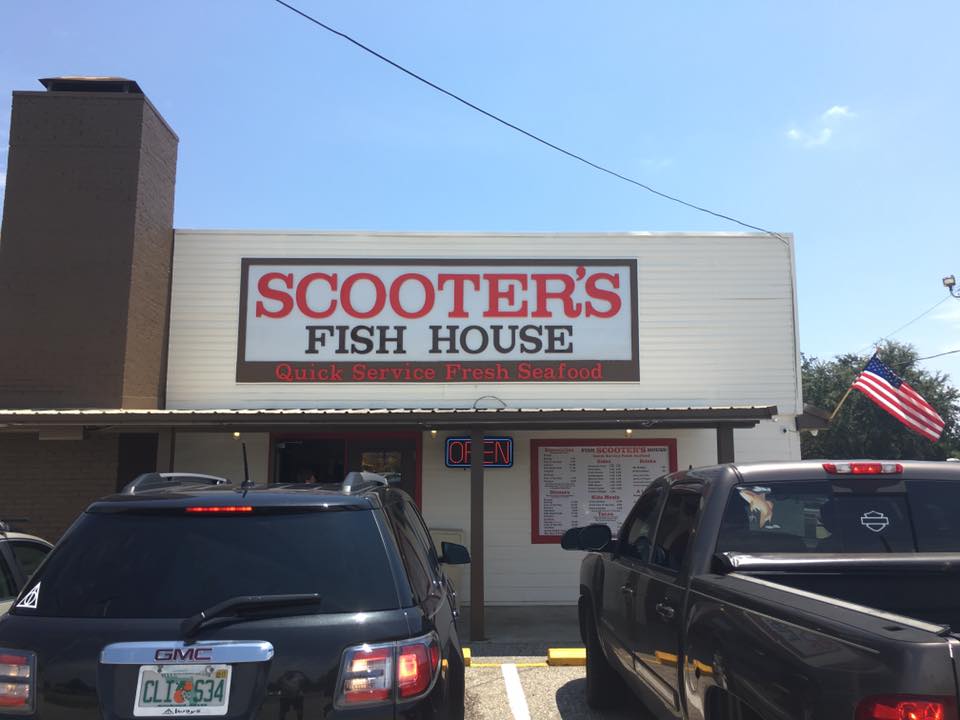 A few months ago we opened Scooter's Fish House, Stewby's brother restaurant. Located in the town of Navarre, we are proud to offer the same delicious, fresh seafood as Stewby's. When visiting Scooter's you can expect to receive the same level of service and commitment. You'll savor in our fried shrimp, amberjack, gumbo and of course our signature Samwiches.
The Navarre seafood restaurant you've been dreaming of!
Conveniently located in Navarre, we are accessible from both Destin and Pensacola. Home to some of the most beautiful beaches in the country, Navarre is Florida's best kept secret. Come out and enjoy a day at the beach followed by some delicious seafood. You'll be asking where has Scooter's been all my life? We look forward to serving you soon.
Stewby's has been named one of the top 10 bargain dining restaurants in the country! This is without a doubt a great honor for the team here at Stewby's. Everyday we work hard to provide our customers with deliciously fresh seafood. We are as always thankful to our customers for their support over the years and for showing Stewby's so much love. As a locally owned and operated restaurant we are proud to represent the Fort Walton Beach community. If you're looking for fresh seafood, friendly service and a laid back atmosphere then Stewby's is the place to be. See you soon.
Planning on visiting the area soon? Then check out our favorite things to do in Fort Walton Beach. Of course at the top of our list is having a delicious meal at Stewby's. However, the list below is sure to drum up your appetite as you explore everything Fort Walton Beach has to offer. From beautiful beaches to fun activities the whole family can enjoy, your vacation is sure to be a memorable one.

Gulfarium Marine Adventure Park
Enjoy a day at the park learning all about aquatic animals.

John C. Beasly Park
One of the most beautiful beaches in town showcasing emerald green water and white sand.

Escape Zone 60
Do you have what it takes to solve puzzles and escape the room in less than 60 minutes?

Cattywampus Aquatic Adventures
Meet the dolphins of the Emerald Coast or take a sunset cruise around the Destin Harbor.

Wild Willy's Adventure Zone
Travel back to the dinosaur era.

Regal Sun Plaza and Regal Santa Rosa
Catch the newest movie releases at one of our two Regal Cinemas.

Goofy Golf
Fun mini-golf the whole family to enjoy.