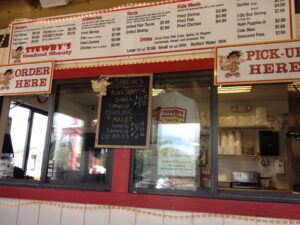 Hi! I'm Stewart Taylor and this is my little seafood shanty. STEWBY'S Seafood Shanty is based off an old family restaurant called Sam's Oyster House. Sam's Oyster House was founded by my father Sam Taylor back in the late 60's as a small seafood take-out.
Sam passed away back in 1985 and was left for myself, brother, and mother to operate. Sam's remained open for 11 more years until it was sold in 1996. Sam's was sold for many different reasons. One of which was the desires to go in new directions by myself and other family members.
Unfortunately Sam's closed 1 year later at the hands of the new owners. This was very depressing. After empty promises to carry on the Sam's name for years to come, the new owners went bankrupt just after 1 year.
Sam's Oyster House may have had it's problems, but the lack of quality fried seafood was not one of them. Serving fresh locally caught amberjack and shrimp, Sam's was considered the authority on fresh fried seafood. Sam's was actually the first to serve amberjack. Amberjack was considered trash fish and my father had to beg the fisherman to bring it to the docks.
Sam's paved the way for most of the seafood restaurants in Fort Walton and Destin today.  Most are modeled after Sam's casual atmosphere and menu. However these restaurants don't have what I have and that is my fathers vision and most importantly his recipes.
What is STEWBY'S Seafood Shanty
STEWBY'S Seafood Shanty is a small take out and drive thru seafood restaurant in Fort Walton Beach. Offering the most affordable and freshest local seafood. You can eat on our heated and cooled enclosed deck or take it to-go.
All our seafood is fresh and locally bought. The fish comes straight of the boats in Destin. Our sauces and sides are all made from scratch. Even the seafood seasoning is made from scratch with no MSG or preservatives.
Built from an old portable school classroom and placed on an old car lot, STEWBY'S is centrally located in the heart of Fort Walton Beach, Fl. on Racetrack rd.
Average order time is between 7-9 minutes. So if your in a hurry, don't worry. We'll have you on your way in minutes. STEWBY'S also offers a drive thru window for your convenience. But don't let the drive thru fool you. You don't have to sacrifice quality for convenience.
Drive thru and take some to go or stop in and order from the walk up window. STEWBY'S is always providing the best quality seafood at the best price!