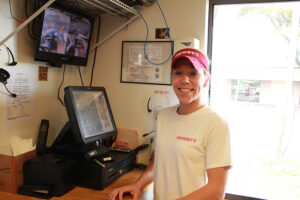 Shelby is the Supervisor at Stewby's Seafood Shanty. She is originally from Tennessee and is intent on serving up the best customer service enhancing the dining experience even more. She is in charge of interviewing newbies at Stewby's. Just like Gary, the manager, Shelby has been with the best seafood restaurant in Fort Walton Beach since they opened five years ago.
Drop by to say hello, meet the rest of our friendly staff, and grab a bite of the best seafood in town! Stewby's is located at 427 Racetrack Rd N.W. in Fort Walton Beach.
Don't forget to call ahead at 1(850)-586-7001 and ask Shelby about our specials!