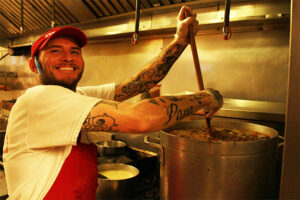 At Stewby's Seafood Shanty, we believe in serving the best quality seafood to our customers. One of the most popular items on our menu is our delicious gumbo. Our gumbo is prepared in our kitchen by Chris. Chris is Stewby's kitchen supervisor. Not only does Chris prepare our delicious gumbo, he also makes the potato salad and fried zucchinis on top of his other supervisor duties.
Stewby's Seafood Shanty serves up delicious and affordable seafood in Fort Walton Beach.
Affordable price. Great quality. Quick service. Visit us and dine at Stewby's Seafood Shanty on 427 Racetrack Road, Fort Walton Beach, FL, 32547. Call ahead for our specials at 1(850)-586-7001.
Don't forget! We also have our brother location, Scooter's Fish House, in Navarre, Florida if you are ever in the area and are craving delicious, locally caught seafood.